In this article MJ reviews all the player trades and free agency moves from a SuperCoach, AFLDreamTeam, Ultimate Footy and a AFLFantasy perspective.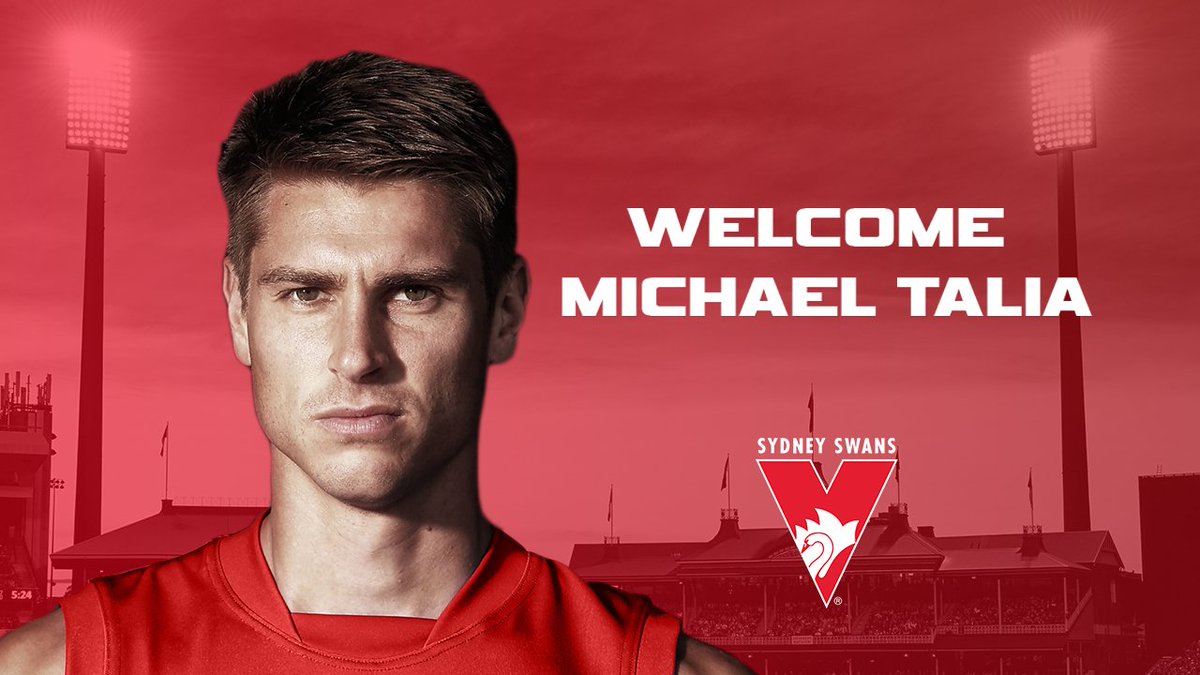 Michael Talia
TRADE – Sydney Swans
The final player traded this preseason the dogs sent him (and hopefully not their game plan) to the Swans. Michael had some AFLFantasy relevancy this year due to how cheap he was, however he won't be at near basement price in 2016 making this key defender pretty irrelevant as an option.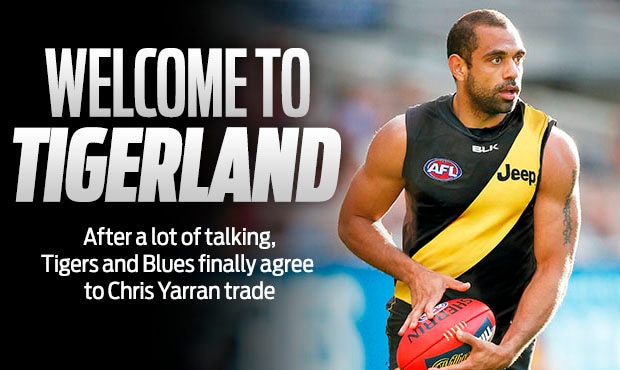 Chris Yarran
TRADE – Richmond
7 years at the Blues and Yarran is now running to Punt Road. One of the key objectives for the Tigers was to bring in someone with a skill set that can break the lines, something Yarran has shown he has the ability to do.
Although he can play as a small forward I'd expect the Tigers to use his run from the defensive half. Although seasonal averages in the Mid 60's & early 70's are layered across his career across all the formats he has shown some scoring potential especially in SuperCoach where he averaged over 80 in 2011 & 2014.
He's going to be priced at an average of 67 in DT/AF and 74 in SuperCoach so their's not a large amount of growth value unless you believe he can really add 15 – 20 points per game on that average. He's got the potential, but history says at this stage it might be a stretch. The real place to consider him is a draft league. He's a chance to be around right at the last few rounds of your draft and could become a handy final on field player or even a good bench option.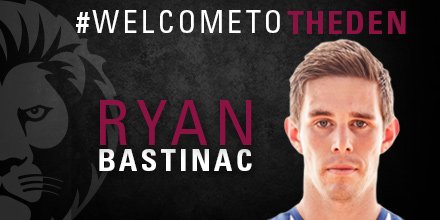 Ryan Bastinac
TRADE – Brisbane Lions
One of the many complex parts of the Aish trade the Lions now add some more depth to an already solid midfield group. Bastinac does have some fantasy footy chops about him, back in 2013 he averaged 85 (DT/AF) and 93 (SC) from 22 games. He's gonna be priced around 20 points less than that coming into 2016 so he does present some value.
That Lions midfield although without Redden and Aish it still has: Beams, Rockliff, Rich, Zorko, Christensen, Hanley, Taylor, Robinson and now along with Bastinac they've traded in Jansen and Bell. Yes some of those guys will be more forward based, but outside of in a draft league I'd really struggle to encourage anyone to seriously consider Ryan.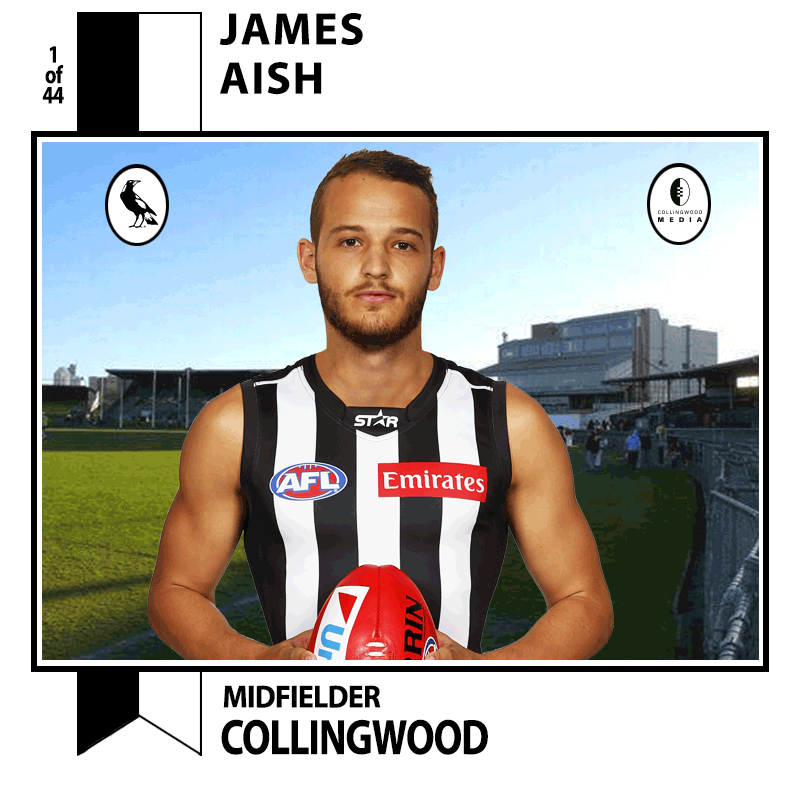 James Aish
TRADE – Collingwood Magpies
The pies now boast a midfield rotation of: Swan, Pendlebury, Treloar, Sidebottom, Adams, Greenwood, Broomhead, Crisp, DeGoey and now Aish. That's not even including the possibility of Williams, Langdon, Scharenberg, Elliott, Varcoe and if you believe the trade talk Howe who can all roll through there too.
Aish is a highly talented kid who has some fantasy footy scoring potential this was seen both as a junior, playing in the SANFL even at 16 and his first season of AFL. His 2016 price will be down 20 points per game on his debut season average, so he holds some value. The 2 questions on choosing him or not (especially in salary cap formats) are: Where does he play in the Collingwood Midfield? Secondly, with all the other value that will exist in our fantasy footy midfield is their enough value / room for scoring improvement in Aish to warrant him being on your field? Perhaps not.
In a draft league depending on how switched on your rival coaches are, James could be a late slider due to his low scoring average and be a great depth player.
Tomas Bugg
TRADE – Melbourne Demons
He's a really damaging lock down midfielder / defender who has shown he can do the job on some really good footballers. Normally, 'taggers' don't score well, the only really exception was Kane Cornes.
In his 4 seasons of AFL he's yet to average 70 or more across all formats.  Where Tom becomes relevant is what role he plays in the team. Will he take Daniel Cross' spot in the team? Maybe he'll free up Jack Viney from his shut down roles, if that's the case Jack could become a real breakout candidate for 2016.  A handy player to go along with their first round pick upgrade, but far from someone you should be considering in draft let alone salary cap formats.
Jack Fitzpatrick
TRADE – Hawthorn Hawks
For many they may have missed this trade as it dropped just minutes after the Adam Treloar deal.  While only playing 22 games since 2010 and with a only 3 scores in DT/AF and SC over 80 he's hardly screaming "pick me" in fantasy footy.
This move though is of real interest from a pure football perspective. Since Hale retired many have already begun to wonder how the Hawks will fill the hole left by the forward that spends time in the ruck. Does Ceglar come in? Maybe Roughie does the ruck work? Potentially Jack could be the answer. He's not shown any reason to be fantasy footy relevant, but I'll be watching him and how or if he's used to replace Hale.
Adam Treloar
TRADE – Collingwood Magpies
It nearly took everyday of the trade period but the Pies have their man. Treloar is a phenomenal footballer. he can play both inside and outside, has great strength, explosive speed and can convert on the scoreboard. Although it's a hefty price with a few 1st round picks, if he continues to develop at his current rate it may well be a bargain.
For the second season in a row Adam has averaged 103+ across AFLFantasy, SuperCoach and AFLDreamTeam. Does his movement into a different side change his fantasy footy output? Potentially. You could actually build a case both ways that it could hurt or help him.
Either way Adam's a star of the AFL and anyone who's scored back to back seasonal averages like that and has the scoring ceiling of 150+ scores needs to be considered.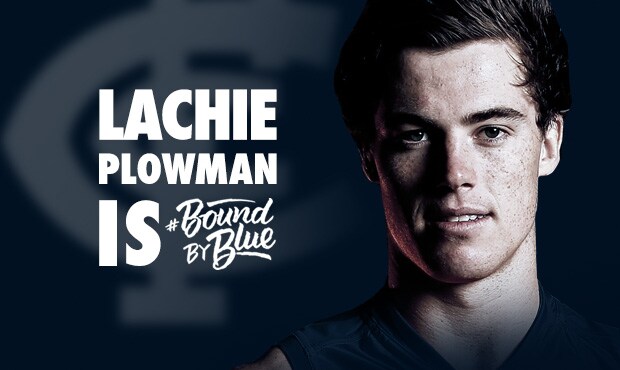 Lachie Plowman
TRADE – Carlton
The Blues build some depths into their key back stocks with this former highly drafted Giant. Injury and opportunity have starved his development with him only managing 20 games in his 3 seasons at AFL level.
In his past 2 seasons at NEAFL level he's averaged 16 touches and 5 marks but historically key backs don't do well for great fantasy footy options even when at dirt cheap prices.
He may be in line for a discount as he only played to games this year, but even then I can't see that discount being significant enough for me to consider him in any format.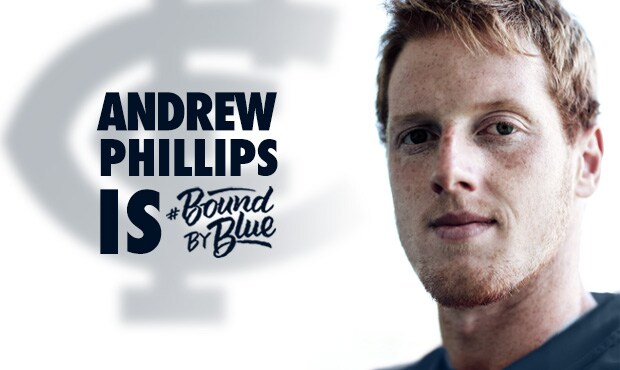 Andrew Phillips
TRADE – Carlton
Recruited purely as insurance for if Matthew Kruezer goes down injured. He posses handy enough NEAFL numbers in 2015 averaging 32 hitouts, 13 disposals and 97 RealDreamTeam and AFLFantasy points.
He'll only be potentially relevant if Kruezer breaks down. Maybe consider handcuffing him in a draft league, but at this stage that'd be it.
Jed Lamb
TRADE – Carlton
His NEAFL numbers are good over the past 2 seasons averaging 102 & 93 in DT and AF, and averaging just over 19 disposals  and 5.5 marks over the past 2 seasons.
Played only 2 AFL games, again along a similar theme to some other GWS boys that are now Blues he struggled to break into the Giants best 22 and as such will enjoy the new opportunities are Carlton.
I'll keep an eye loosely on him in preseason but It's hard to see how the Blues structure up.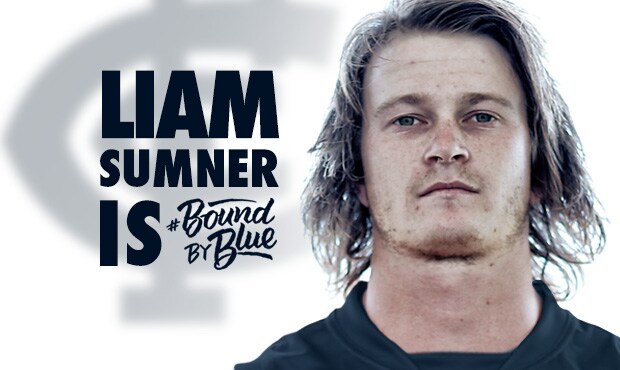 Liam Sumner
TRADE – Carlton
Drafted at Pick #10 in 2011, Liam was a high rated youngster. However, since then a mixture of injury and the high competition for spots in the GWS midfield has meant he's struggled to deliever on his under 18 form.
Due to not playing a game this season (and only 2 the season prior) Sumner will be likely bargain basement price in 2016.
Is he in the Blues 22? Who knows, they've had a complete list overhaul and a new coach, as such nobody knows what the Blues will look like in 2016. Keep an eye on him throughout the preseason.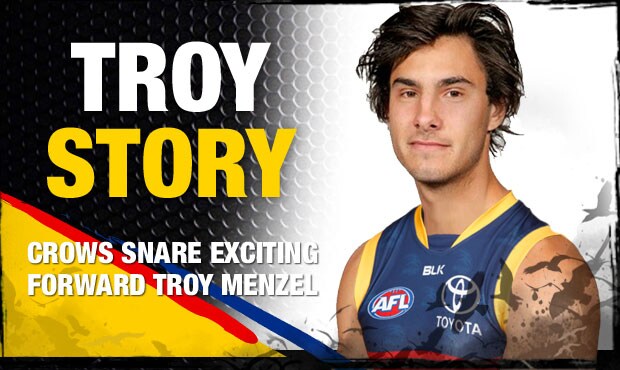 Troy Menzel
TRADE – Adelaide Crows
Just a few seasons ago he was a highly rated (and drafted) youngster and was seen as one of the saviors of the Blues. Enter 2015 trade period  & he's gone and now a Crow.
On raw potential Troy could be a star. On talent alone some of the things he can do is stunning. The club hope to see him grow into a player similar of cross town rival Chad Wingard. However, Menzel will need to havea big preseason ahead of him as he'll need to improve his endurance, fitness and perceived lack effort.
In his 3 seasons at the Blues he's averaged around the mid-high 40's and been a predominantly inside 50 player. For him to become fantasy footy relevant he'll need to push further up the ground & improve significantly in the areas I mentioned earlier.  Pass for me in 2016 at this stage.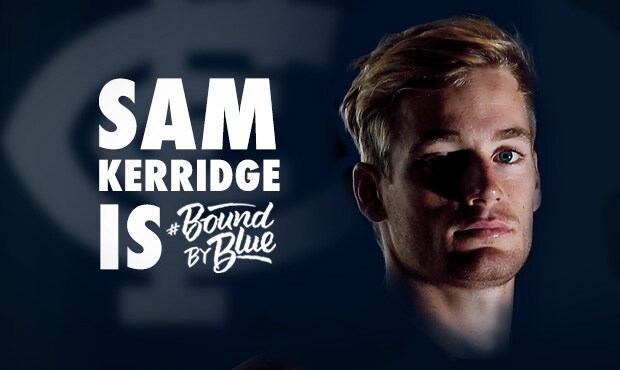 Sam Kerridge
TRADE – Carlton Blues
In 2013 he was a handy cheap option, he played 11 games and averaged 69 (DT/AF) and 65 (SC.) Since then some injuries and an increased battle for spots in the Crows line up has seen him drift out of favor.
The kid can play though, as tweeted earlier by @FantasyFreako about Sam "Averaged 25 disposals & 106 SuperCoach and 94 AFLFantasy points in SANFL since 2013."
When played as a ball winning midfielder he has some scoring potential and if he's priced even close to his 2015 averages of 19 (DT/AF) and 22 (SC) then he'd be really hard to pass up on, especially if he maintains MID/FWD DPP.
What will be hard to know (especially until pre season) is how does Bolton use this one of his latest recruits. Plenty of changes for the Blues this trade period means anything is possible.
Matt Rosa
TRADE – Gold Coast Suns
In both UltimateFooty and AFLFantasy he was awarded DEF eligibility late in the year and should he retain that (and stay fit) he's one to consider and have on a watch-list.
He's shown on various occasions throughout his career he can score well enough in fantasy footy especially if he can be picked as a backman. A 2014 DT/AF average of 91 + 4 SuperCoach seasons of averaging 80+ means her may hold some value.
For me the real concern (outside of if he doesn't gain defensive eligibility) is his history with injuries. You have to go back to 2010 for the last time he played 20 or more home and away games, and in the past 3 seasons his best is 14.
The 2 big variables on Matt being relevant in fantasy footy next year are his body getting right and being able to be picked as a defender. If both happen he's one to consider.
Jake Carlisle
TRADE – St Kilda Saints
For a while their it looked as though this key position utility could end up at the Hawks. Thankfully for Saints fans they get their man and still keep a pick in the top 15.
He's a chance to retain his DEF/FWD status, something that could provide some handy flexibility in a deep draft league but outside of that I'd not be considering him for my fantasy football team. Key position prospects rarely make handy options in a salary cap format.
Craig Bird
TRADE – Essendon Bombers
Prior to 2015 Bird has been a crucial member of the Swans team over the past 5 years playing a minimum of 18 games in 2011-2014. A mixture of injuries and being squeezed out by younger players in Tom Mitchell and Isaac Heeney meant Craig was forced to play  just 6 AFL games this season.
This former Swans premiership midfielder will add to the midfield rotations of the Bombers as well as be a handy defensive forward, but from a fantasy footy perspective historically he's not shown alot. Outside of a career best seasonal average in the early 80's across the formats he'd never averaged higher than 72.
Could a role change to getting more midfield time make him more relevant? Absolutely, but for me even though he'll still likely hold his MID/FWD DPP I'd need to see that role before considering him.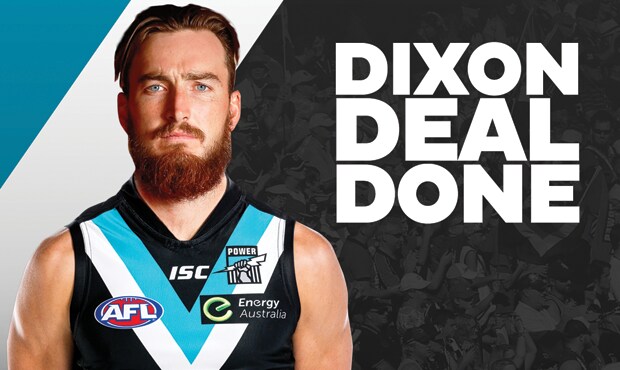 Charlie Dixon
TRADE – Port Adelaide
It's crazy to think that in his 5 seasons of AFL that in 2015 Charlie played his most games in a season totaling at 16. A talented key position forward who's shown he can also play some handy minutes in the ruck Dixon has plenty of skills but sadly his body has failed him consistently.
From a fantasy footy perspective his best season was 2013 where he averaged 71 in DT & AF and a very handy 90 in SuperCoach. If your going to pick him up more than likely it'd be in a draft league, especially in a category scoring league or SuperCoach draft. Even though history says he has some value in him as he'll be priced at 59 in DT/AF and 69 in SC it'd be a big gamble to pick him in a salary cap format.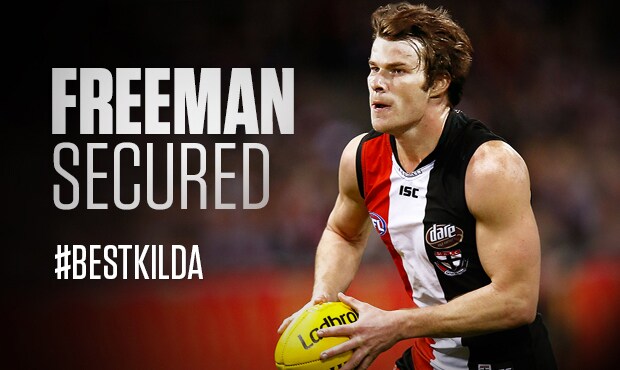 Nathan Freeman
TRADE – St Kilda
He was one of the must have rookies for many at the start of the season, but once again sadly injury interrupted his 2015 and limited him to only 4 VFL games.  Those games he was handy enough but hardly prolific averaging 16 disposals  and 62 DreamTeam/AFLFantasy points.
A highly regarded youngster, one whom former Magpies skipper has compared to a young Patrick Dangerfield. If fit he'll add some much needed strength around the contests and as a basement priced player he'll need to be considered as a possible midfield rookie bench option.
The question isn't around his football ability, it's all around his body. If that holds up then happy days we're away.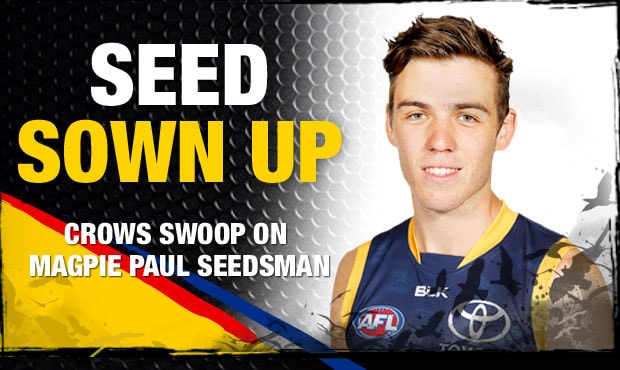 Paul Seedsman
TRADE – Adelaide Crows
Crows fans as a well as fantasy footy fans should be happy to see Paul land here. For a few years now Seedsman has teased us with his potential. His best is very good, his worst is a long way from that. At his best he's a 128 (DT/AF) 137 (SC) like we saw on Anzac day. Other times Seed can go missing an seem unwilling to to apply himself to force himself into the game.
I expect him to become a staple part of the Crows best 22 and with the addition of Hampton via GWS and the return from injury of Matthew Jaensch I can see Seedsman (and also Smith) being moved to play up the wing to allow their run and carry to blossom.
He'll be priced in the low to mid 60's across all formats. Paul has the potential to add 15-20 points per game on that priced average an as such could become the 5th defensive option you start the year with that could average 80+ and could become solid enough to keep in your team for the season. Keep him firmly on your watchlist because if this kid applies himself he could be that backline bargain we need.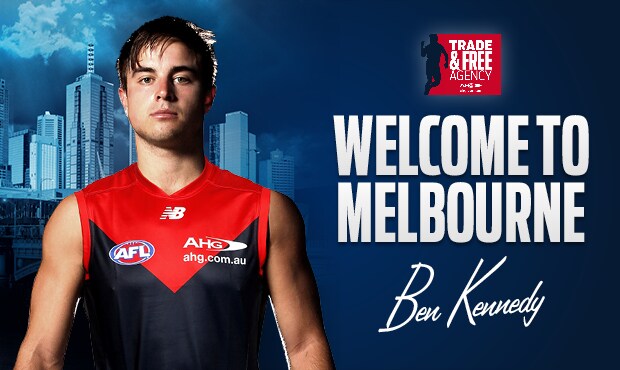 Ben Kennedy
TRADE – Melbourne Demons
In the preseason fellow panel member Fish wrote an article about Kennedy, which you can read here. In his 3 seasons at AFL level he's managed an output of 25 games with many of them vest affected. Sadly for Ben he's never got the opportunity consistently as a Magpie to deliver on his immense talent due to either vest restrictions or having others of the small forward/midfield type (something the Pies have had an abundance of) ahead of him.
At the AFL level he's averaged low to mid 40's across the formats, however, at the VFL level his past three seasons from a DreamTeam/AFLFantasy scoring have been 86, 106 & 93. In each year he's averaged 24 disposals or more plus 4 tackles and 4 marks.
At Melbourne Kennedy will get a go, both in the forward line and also some midfield minutes. As a junior he was an elite ball winner and could well be one of the steals of this trade period for Melbourne.
He'll be dirt cheap due to his vest affected seasons, and with no vest next year Kennedy will walk straight into the Demons best 22 as well as all of my fantasy footy squads. Welcome Ben Kennedy!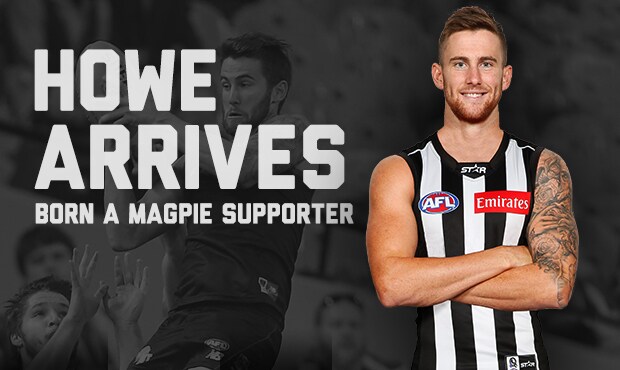 Jeremy Howe
TRADE – Collingwood Magpies'
As apart of the four club trade the Magpies landed one of their key objectives which was to add some height and support to Cloke in their forward line. While not a 'key' forward at 190cm Howe becomes that 3rd tall who we know can present and take a mark.
Earlier in the trade period @FantasyFreako tweeted "Contested marks since 2011 – Cloke 270, Hawkins 214, Petrie 209, J Riewoldt 177 and Howe 163."
In 2015 he was defense eligible and averaged 65 in DT/AF and 74 in SC.  Only 2 tons in DreamTeam/AFLFantasy but a handy 5 in SuperCoach, meaning especially in a SC scoring format draft or category scoring ultimate footy draft he provides a handy enough option.
Jimmy Toumpas
TRADE – Port Adelaide Power
As a junior he was one of the best at under 18 level and showed some real elite skills especially his use of the ball. Since landing at the Demons Jimmy's had a mixture of injuries, form and given the wrong role which has seem him struggle to deliver on his junior potential.
We saw some of his potential this year in round 8 against the Bulldogs with a 103 (DT/AF) and 82 (SC) and once again in round 11 against the Saints with a 125 (DT/AF) and 117 (SC.)
He was a MID/FWD this year and will be priced at  59 (DT/AF) and 53 (SC) and if he retains especially forward status he's someone to keep on the radar. In a midfield that already boats the inside strength of Gray, Wines, Boak and outside class of Harlett, Wingard and Polec, Jimmy will be a handy addition especially if he can get back to under 18 form.
Jon Giles
TRADE – West Coast Eagles
Nothing more than an insurance move for the Eagles. NicNat will continue as West Coasts #1 ruck with likely Lycett to take over the spot from Callum Sinclair since his move to the Swans. Jon Giles is their as a "just in case" move and as such should not be considered in any salary cap formats unless the "in case" scenario plays out. Even then, I think their are better value options around. Really it's draft leagues and only if NicNat goes down would I consider him.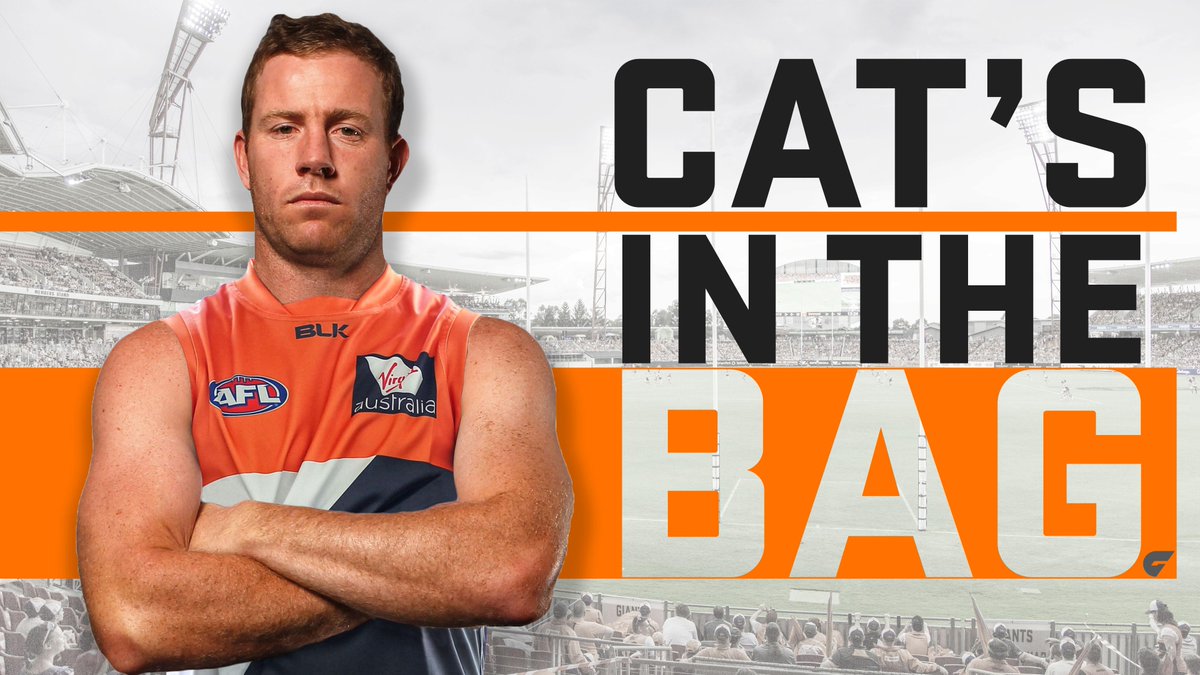 Steve Johnson
TRADE – GWS Giants
He gained forward status in both Ultimate Footy and AFLFantasy during 2015, something he should have across all the formats (along with Mid) in 2016.
2 years ago he was the highest averaging player in AFLFantasy & AFLDreamTeam going at 118. Last year Stevie averaged 86 in DT/AF and 84 in SC this was his lowest seasonal average since 2006.
Giants coach Leon Cameron has already stated that Stevie will play predominantly forward with some midfield rotation minutes, you'd think if that the case an average of 95 or more may be out of his reach.
As a forward he holds some relevancy,but at 32 years of old will he be expected to play every game for the Giants or is their an element of this being like Chappy where he is managed at various points through the season?
We know what Stevie J can do, however just personally outside of AFLFantasy or a draft league I'd probably pass on him.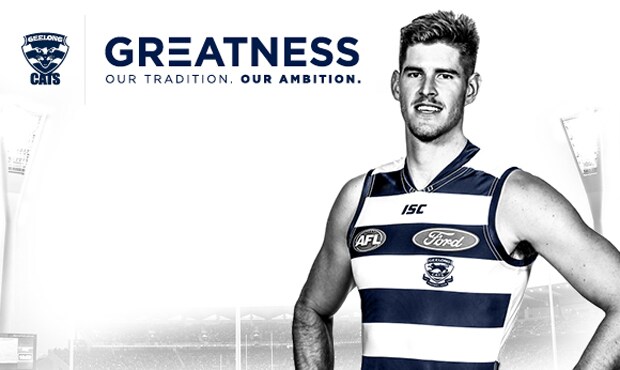 Zac Smith
TRADE – Geelong Cats
Zac left the Suns in the hope to become the #1 ruck at a club, for me seeing Zac land at the Cats was surprising considering they have Stanley, Blicavs, Vardy and Clark who all when fit can ruck  and probably fit into the Cats best 22.
His best fantasy footy season was his debut year in 2011 and a mixture of form and injuries have prevented him from getting back to his best. For me if your looking at a mid price / under price ruck option you'd have to have both Sinclair (Swans) and Berger (Bombers) ahead of Zac at this stage.
In a draft league I'd understand handcuffing him to the likes of Stanley. Wouldn't be looking at him much beyond that unless something develops over preseason.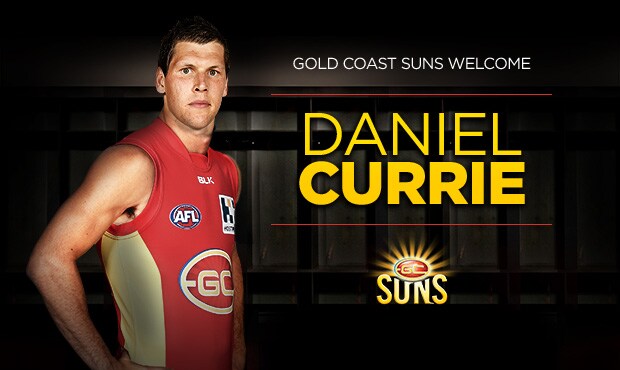 Dan Currie
TRADE – Gold Coast Suns
Forever the bridesmaid , Dan's now at his 3rd club and once again will be the backup behind Tom Nicholls. He's been in the AFL system since 2007, but it was only in 2014 where he played his 4 games of AFL. In those games he averaged 53 in DT/AF and 60 in SC.
Without playing a game last year we should see him gain some form of a discount, which could price him into cheap enough consideration to look at him as as a bench option for our rucks. More than likely it'll take an injury to Tom Nicholls to get him games.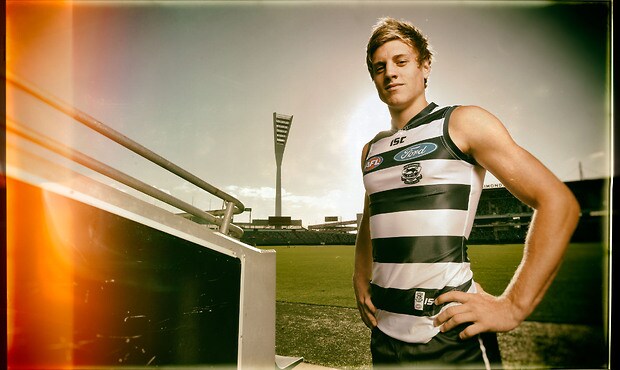 Jared Jansen
TRADE – Brisbane Lions
Jared's got a great contested ball game about him. While yet to debut at AFL in 2015 he played 16 VFL games an averaged 15 touches, 6 tackles at 67 DT/AF points.  Earlier in the trade period Fantasy Freako tweeted about Jansen "had a contested possession rate of 64% in the VFL, highest % of any mid in the comp."
He'll be at a base price and as such needs to be monitored carefully though the preseason. However, It's a tough midfield rotation for him to break into with a Lions boasting names like: Rockliff, Beams, Robinson, Bell, Hanley, Rich, Zorko, Christensen & Taylor. G
Josh Walker
TRADE – Brisbane Lions
The Lions get the Key Forward that they want to help their side and aged 23 at the start of the next season still has plenty of footy left in him.
From a fantasy football point of view in salary cap formats key forwards aren't always the most relevant especially when the likes of Martin, Deledio and even Gray are all expected to hold DPP in 2016.
His best  score for the season came in round 18 against the Lions which was an 88 (DT/AF) and 118 in (SC). A change of clubs won't make him relevant I wouldn't even consider him in a deep draft league.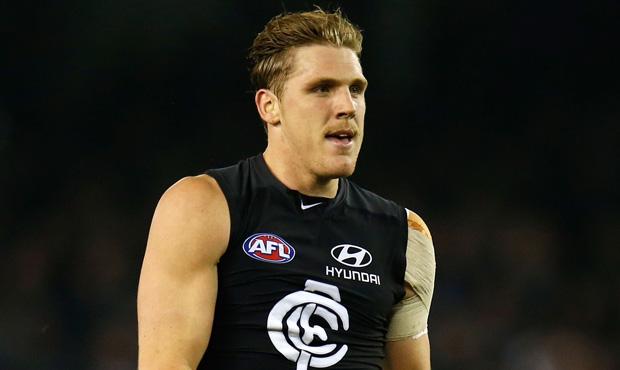 Tom Bell
TRADE – Brisbane Lions
Had his best fantasy footy season this year after several years averaging in the mid 60's he leaped into the high 80's for both SuperCoach and DT/AF. In 2015, he was FWD/MID something that if he manages to hold onto should keep his relevancy (especially in draft formats) relatively high. For me though I lean to that being unlikely due to the high number of midfield minutes he played. If that's the case even at a new club I expect his fantasy footy relevancy  to drop off.
Jacob Townsend
TRADE – Richmond Tigers
Has spent 4 seasons on the list with the Giants but due to a few injuries and also the huge depth of the GWS midfield it's been hard for Townsend to lock away a permanent spot. Jacob's a big inside midfielder and despite only one appearance came in the final home-and-away round against Melbourne at Etihad Stadium, and this year he was one of the Giants' best players that day, finishing with 22 disposals.
Due to that 1 game in 2015 (82 in DT/AF 80 in SC) he'll be priced higher than what he's been previously averaged by some way unless he's given some kind of discount. He's got some handy NEAFL numbers on his side but that's not his real value to the Tigers.
The real value here is how he'll be used to support and protect Tigers captain Trent Cotchin inside the contest. He loves a tackle, is hard and nails and will compliment the work of the existing Tigers midfield.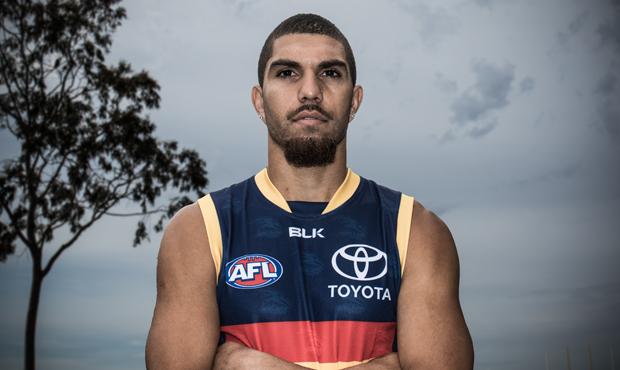 Curtly Hampton
TRADE – Adelaide Crows
The Crows have 2 big holes in their list, one is a key defender, the other is to add some outside run and carry. Enter Curtly Hampton, his addition to the team (likely to half back) will aid the Crows ability to use Brodie Smith further up the field.
Injury has restricted his development and from a fantasy footy perspective he does present some value. Back in 2014 Curtly managed 11 games and averaged 74 in SuperCoach and 68 in DreamTeam and AFLFantasy.
This year from his 5 games he averaged high 40's and does present some value if he can mature and deliver on his potential and talent. He's a watch and see for me in terms of my personal starting squad. He'd be unlikely to become a 85+ averaging defender (aka 'Keeper') so you'll need to be looking to upgrade him at some point in the season if he ends up on your starting squad.
He might slide late in some drafts due to his relative low scoring 2015, so you might be able to snag him as a handy last defender/bench cover.
Dawson Simpson
FREE AGENCY TRANSFER – GWS Giants
No, just no. Recruited as a back up for if/when Mumford goes down injured. Nothing to see here.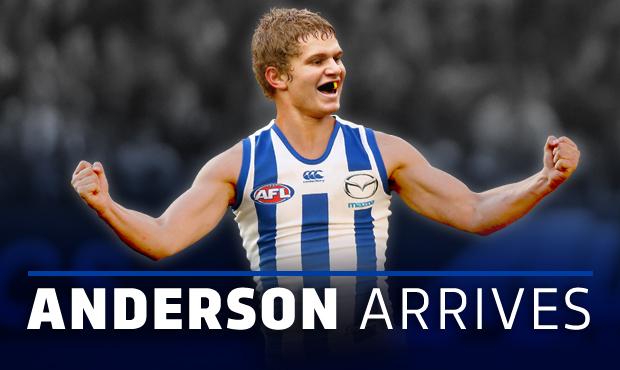 Jed Anderson
TRADE – North Melbourne Kangaroos
Ladies and gentlemen we have a serious rookie option for 2016! While a look over his fantasy footy stats over his 10 AFL games history aren't strong, remember that he was wearing a vest in almost all of them.
He'll be priced at his 2015 average of 41 in SuperCoach & 49 in AFLDreamTeam & AFLFantasy. However, with the past few seasons seeing Jed miss plenty of games through injury he may quality for a small discount, something as coaches we won't complain about if the powers that be feel he qualifies.
The only reason he hasn't established himself in the Hawks midfield was several  injuries have cut him off when their have been opportunities within the team.  Jed Anderson adds some great outside speed as well as some much needed polish. Only another injury setback will prevent him from being named round 1. Their may well be cheaper options, but his job security is awesome.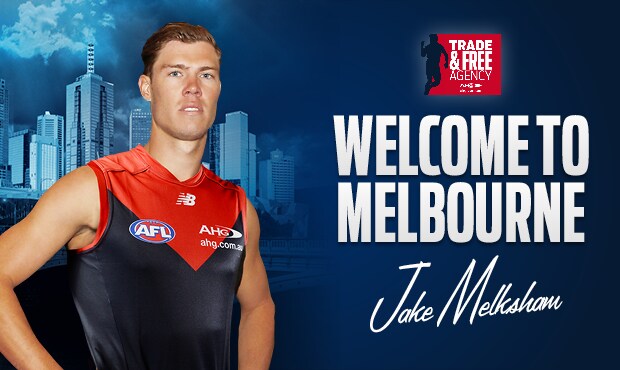 Jake Melksham
TRADE – Melbourne Demons
Not much to see here from a pure fantasy footy point of view. Has spent 6 seasons in the AFL system and currently has only had one season where he's averaged over 70 which was back in 2013.
Does a change of clubs make him more relevant? No, the only minor case you could build to say he ever has been was a 3 week window of time this year which was in the first 3 rounds. However since 3 solid scores his highest score for the year was 79 (DT/AF) and 91 in (SC).
Move along nothing to see here, even his DPP doesn't make him relevant.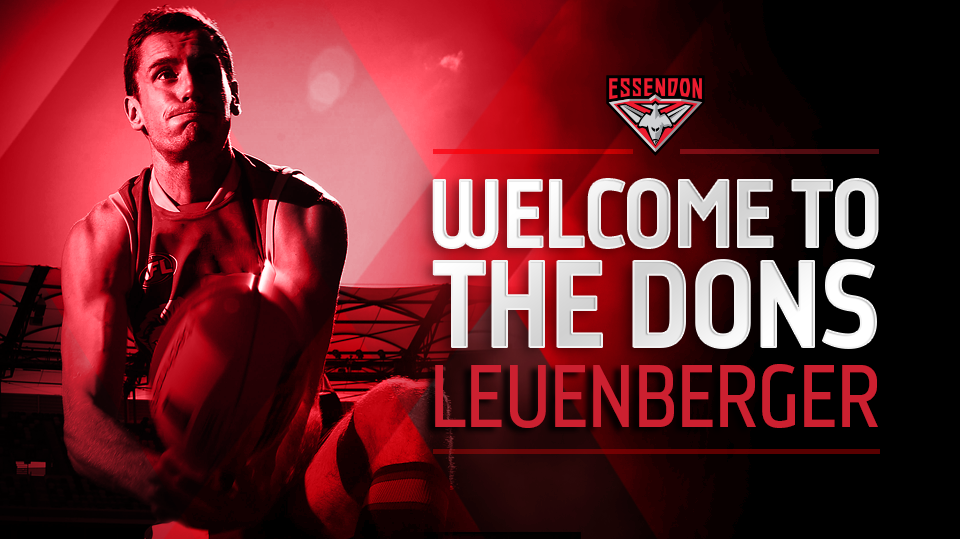 Matthew Leuenberger
FREE AGENCY TRANSFER – Essendon Bombers
From a starting squads perspective here we may have the best move of the trade period so far. Let's not focus on the strategy side of starting a midprice ruck or 2, we've got plenty of time this pre season to debate what a good ruck strategy is, for now let's just focus in on Berger and whether he is worth considering.
We know when Matt's fully fit and the #1 ruck he's capable of scoring well. In 2011 he 22 games an averaged 102 (SC) and 92 (DT/AF), again in 2013 he played 20 games for 97 (SC) and 85 (DT/AF.) Even this year in the in rounds 14 & 15 when he played solo ruck he scored well in DT  & Fantasy where he scored 124 & 83.
The 2 big hurdles of Matt's past few years have been  1) Getting his body right and 2) being his clubs #1 ruck choice. So far both of those boxes have been ticked and priced at 57 in SuperCoach and 54 in DT/AF. History shows he's capable of lifting that averaged between 30 – 40 points, the dilemma comes then around your starting structure of if you will go for value or just do a 'set and forget' ruck combination. Either way, this trade makes Matthew highly relevant again and he must be considered if you chose to get some value into your starting rucks.
Lewis Jetta
TRADE – West Coast Eagles
The former Swans speedster is a handy addition to an already strong Eagles midfield. He'll add some additional speed as well as some goal sense in the forward half. 2015 was his best fantasy footy season ever playing 22 games and averaging 83 in SuperCoach and 79 in DreamTeam & AFLFantasy.
To invest in picking this guy in salary cap formats would mean you truly believe he's going to add approximately 10 points per game minimum on average, for mine I'm not sure a change of club will facilitate this. He's not a high possession player, nor is he a multiple goal kicker every week which makes him hard to be a serious watch-list target in 2016 as their is inconsistency in his scoring.  A pass for me in salary cap formats and shallow drafts. Depending on the depth of your draft league he could become a handy 5th or 6th draft option.
Callum Sinclair
TRADE – Sydney Swans
A great deal for the Sydney Swans, they get their versatile ruckmen who can rest forward and build up a great partnership with Kurt Tippett. Callum should retain his Ruck/Forward status and as such gives handy flexibility, especially if you use your bench depth on someone like a Mason Cox.
From his 17 home and away games he averaged 75 in the formats and he scored 3 x 100+ in DT/AF and 2 in SuperCoach. As the number one ruck the questions surrounding whether you should pick him are: Can you get enough cash generation to easily upgrade him to a premium like a Jacobs/Goldstein/Martin? Secondly, can he handle the #1 ruck role? And lastly,  will his scores increase the 10-15 points per game that are needed. A talent no doubt, but with the formentioned guns scoring like midfielders in our rucks and great some other value available with the likes of berger changing clubs as well makes it hard to get this guy who's mid priced.
For me his real value is in draft leagues, especially if you have him in your Ultimate Footy Keeper League. Whether you plan to keep him or not the good news is this trade has increased his value and as such gives you something to play with when your trade window opens.
Harley Bennell
TRADE – Fremantle Dockers
The kid on field has some serious talent, but I don't think anyone is disputing that. All the issues surrounding Harley are off field. If this part of his world can be worked out then Bennell could become one of the best players in the competition.
If Harley can maintain his Mid/Fwd status next year which he held this year then across all formats he'll need to be on your watch list. However, the format where Harley will excel is SuperCoach. In his past 4 years (for SuperCoach) he's averaged 97, 96, 95 & this year he went at 101.  Only on 3 occasions did he score below 84 while on 5 occasions he scored above 120. While still solid enough in DreamTeam & AFLFantasy it's in this format that you'll get the most out of him.
Outside of the off field issue the other question mark on Harley has been injury & suspension. In his 5 AFL seasons only once has he able to play 22 games,  so picking him is filled with risks.
To win whether it be overall or just your league you'll need to take risks, and have those risks pay off. Is Harley a risk worth taking? Thankfully you don't have to answer that right now, all you need to do is keep him firmly on your watchlist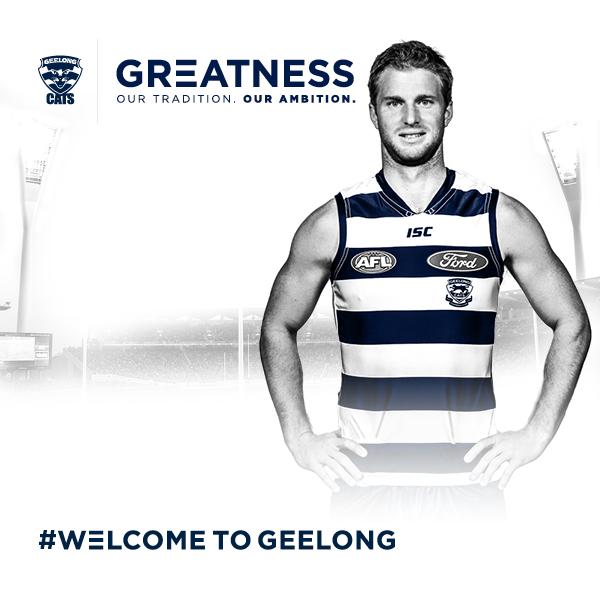 Lachie Henderson
TRADE – Geelong Cats
From a pure SuperCoach, AFLFantasy and AFLDreamTeam point of view their is nothing of real interest in this trade. In 2015 only twice in DT/AF did he score over 80 and in SuperCoach he was only marginally better with three scores over this mark. His seasonal best average in SC is 83 back in 2013 and 68 in DT/AF.
The only place you might consider him is in a deep draft (especially if it's an Ultimate Footy category league or SuperCoach scoring formats.)

 Scott Selwood
Free Agency Transfer – Geelong Cats
Just when you thought day 1 of the trade period couldn't get any better the Eagles announce they'd not be matching the Cats free agency offer and by doing so allowed Scott to join his brother at Geelong.  In Scott's past 2 seasons we have really affected his fantasy scoring plummet with seasonal average in the early 80's across both formats in 2014 from his 12 games and high 50's from his 12 games this season. If we look back to the 2 seasons prior it's clear to see Scott as his premium best with a 97 (DT/AF) and 104 (SC) average in 2012 and a 108 (DT/AF) and 103 (SC) in 2013.
Simply put that at the beginning of fantasy footy next season their is a 50 points per game differential between his 2012-2013 averages and his starting price of 2016. Clearly, he's crazily under priced and is near impossible to say no too.
If your in an UltimateFooty Keeper League, I hope you listened to the advice of Rids from back in July when he encouraged coaches to go out and grab Scooter on the cheap, because at a new club we could see Selwood back towards his point scoring best.
You don't get a free agent to be a depth player, Scott (if fit) will play round 1. He is already sitting nicely in my mind as one of the great under priced midfield options in my starting squad.

Jack Redden
TRADE – West Coast Eagles
The inclusion of Redden into the grand finalists added with the return of their key backs from injury and the likely inclusion of the outside run of Lewis Jetta should keep this time right back in the hunt for 2016 and beyond.
Jack's been a picture of consistency as a fantasy footy scorer of the past 5 years averaging over 90 in  two years and 100 or more in three and that's across SuperCoach, AFLDreamTeam and AFLFantasy.
The one knock that some have on him is that he doesn't score enough BIG hundreds to hurt against you. Just this year alone only 2 score in all the formats of 115 or more. He's also not the high ball winning accumulator with only 1 season (2012) that he averaged over 24 disposals per game that year.
If your considering Jack for your sides in 2016 here are some questions to ask yourself? Does changing clubs help or hurt his scoring potential? Is he under price compared to what you believe he will average? Is he a top 10 averaging midfielder for the year? Your answers to these questions will very quickly help you to know whether or not Redden should move past the watch list and into your starting squad or not.
Patrick Dangerfield
TRADE – Geelong Cats
You've got 2 school of thought when it comes to this trade. 1) It's better than the compensation pick of #14 so by being the first club to effectively get "more" than the likely compensation in getting 9, 28 & Gore who could fix up the Crows outside run is a win. 2) The Crows have given up a Top 3 player in a Trade (not free agency) for 3 unknown quantities and who's draft points value is less than Mills or Hopper.  Either way the deal is done and Cats fans can rejoice!
Last year Danger had his best season by far, averaging 106 and scoring 100 or more on 12 occasions in AFLFantasy/AFLDreamTeam which made him the 17th highest points scorer overall. In SuperCoach he was even better averaging 119.9 and only on  4 occasions he didn't get a score of 100 or more and finished as the 4th highest overall scorer.
The real talking point around this is how does his inclusion into the Geelong line up help Joel Selwood. For many seasons that cats have suffered to win clearances, and Danger is one of the best in the business. You can't tag them both which means one of them could easily get off the leash.
Can Danger be better again? Maybe, either way a player that had the season he did needs to stay firmly in contention for our sides in 2016 (especially in SuperCoach where Danger is a beast.)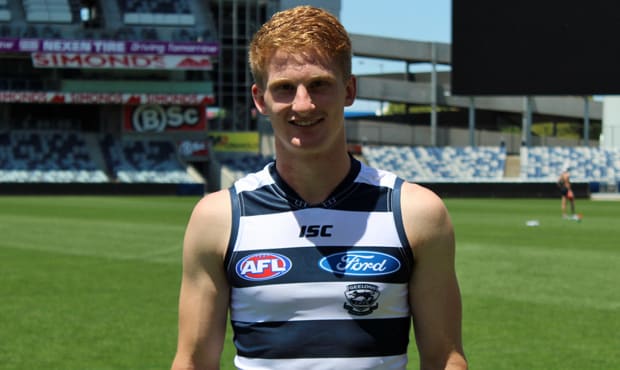 Dean Gore
TRADE – Adelaide Crows
At 10am Monday morning not many people knew who Dean Gore was, all of a sudden he was the 'closer' in the Danger deal (along with 2015 draft picks  9 & 28.
Good news for fantasy coaches is we could have a potential midfield rookie option. Last year in the VFL he averaged 21 disposals, 4 clearances and 6 tackles. He also finished 3rd in the Cats best & fairest. One of the skills Gore posses is his pace,  endurance as well as some polish something that on multiple times the Crows lacked in the midfield.  Added to this he's played 12 SANFL games in his draft year.
To be included in this deal the Crows must consider Dean a near certainty to walk into their best 22 and without the sub rule he could be a handy bench option for fantasy coaches.  Watch his preseason pretty closely
 Matthew Suckling
Free Agency Transfer – Western Bulldogs
Despite Scott Selwood's paperwork being lodged to join Geelong on Friday it was Matt Suckling & the Bulldogs that can lay claim to being the first official movement this period. In 4 of his past 5 seasons he's played 20 games or more, with the exception of 2013 where injury forced him to miss the year. For 2015 it was a solid enough season from Matt, averaging 73 (SuperCoach) & 80 (AFLDreamTeam & AFLFantasy) however it was far from the heights of his 2011 where he averaged over 90.
Last season he was the 15th highest scoring defender in AFLDreamTeam. He was a little further back in AFLFantasy due to the extra in season DPP additions with the likes of Mundy, McVeigh and Boyd all being defenders. In SuperCoach he was abit more middle of the pack as the 48th highest scoring defender.
From his 21 games his year 11 were scores of 80 or more (AF/DT) while only 7 in SC. A move up forward this year saw him gain DEF/FWD in AFLFantasy, and for mine he's every chance of starting 2016 with DPP across all the formats.
The Dogs have recruited him to likely play the half back / wing role which will have him join the likes of Bob Murphy, Johannissen and Matthew Boyd. He should still be at-least second in line behind Murphy for any close attention so he will have games where he posts some big scores.
At this time of year you need to keep an open mind about players, so don't be too hasty to scratch him off the watch list.
You can keep in touch with all the news for the trade period + discuss all the moves from a fantasy footy perspective with me on Twitter @mjwant as well as @coachespanel. Of course you can always join the conversation via FaceBook.
Following the conclusion of the 2015 trade & free agency period we'll have a special podcast looking at each player and their fantasy footy relevancy across all formats for 2016.