My Makers & Breakers (SC):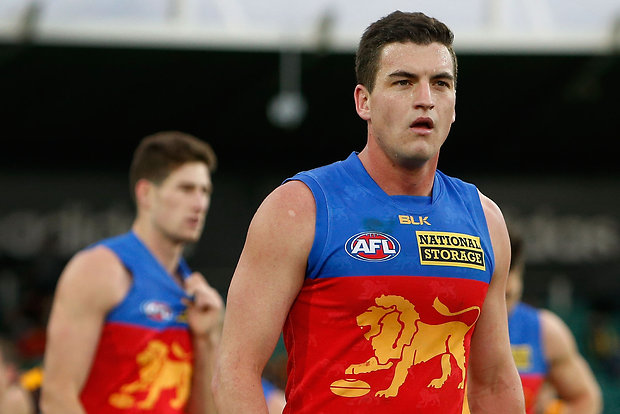 Makers: Pendlebury (c), Rockliff, Adams, Dangerfield and Mitchell.
Breakers: Selwood, S. Martin, D. Martin, Enright and Priddis.
Let me know your Makers and Breakers on Twitter @KaneGrimster
By the end of the season teams start to look the same, which is why unique players are so important if you're looking to move up the rankings or win your league competition. With that being said I'll take a look at some of the more unique players (less than 15 percent ownership in both formats) from Round 22 who could have either made or broke your score this week. 
Makers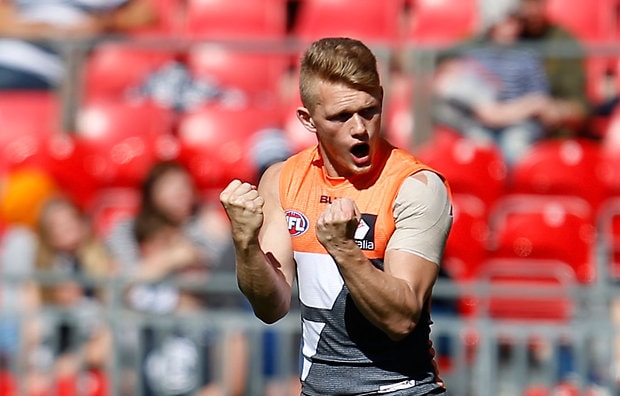 Collingwood midfielders Taylor Adams (135DT/8.7% ownership & 136SC/4.3%) and Steele Sidebottom (111DT/6.1% & 148SC/4.1%) starred for the Magpies on Friday night as well as their fantasy coaches. Adams collected a game-high 36 disposals as well as eight marks, five tackles and a goal to record his fifth score of more than 125DT this season. Last week I noted how Sidebottom's SC numbers had been regularly below his DT ones lately but that certainly wasn't the case this week as he scored 37 more points in SC than DT thanks to his 25 disposals, seven marks, three tackles and two goals.
Brodie Grundy (122DT/7.6% & 125SC/9.3%) has been a breakout player this year across both formats and produced career-high scores in DT and SC at the ideal time for his owners in league finals. Grundy finished the match with 16 touches, four marks, 27 hit-outs, seven tackles and a goal, and I expect to see him among the elite ruckman within the next two seasons.
The speculation about where Adam Treloar (129DT/3.9% & 136SC/4.3%) will be playing his footy next year hasn't impacted his effort for the Giants with the midfielder collecting team-high numbers for disposals (28) and tackles (7), in addition to his five marks and three goals. In his last five matches Treloar's lowest score is 102DT and 94SC and when you couple that with his season average of 105DT and 108SC it's surprising he's in so few teams.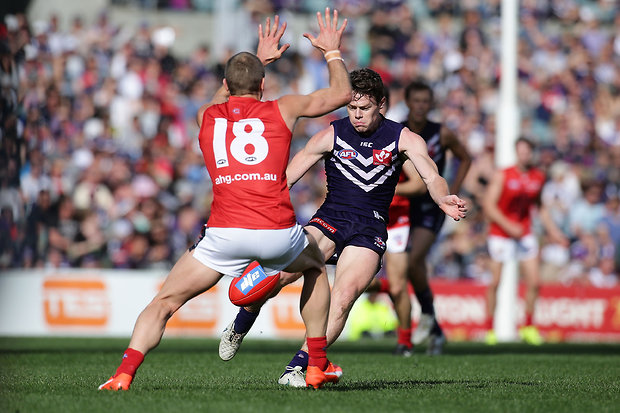 Jack Gunston (126DT/5.2% & 149SC/5.8%) is having a career-best fantasy season but his averages of 92DT and 95SC only places him on the cusp of premium forwards. However, Gunston has shown elite forward potential as he's started to move around the ground and accumulate the ball, which is precisely what he did against the Lions where he ended the match with 24 disposals, 10 marks, three tackles and four goals.
If you were lucky enough to have to play former popular rookies Robbie Tarrant (120DT/5.8% & 127SC/10.2%) or Karl Amon (92DT/8.5% & 133SC/3%) on the field this week to cover one of your injured premiums you were handsomely rewarded. Tarrant collected 24 touches and 14 marks against the Bulldogs, while Amon had 16 disposals, six tackles and three goals in his return to the Power's side, as both arguably played the best match of their career.
Tim in his fixture analysis identified Port Adelaide as having an extremely friendly end to the fantasy season and in hindsight it seems that Hamish Hartlett (125DT/1.2% & 146SC/0.9%) was the man you should have jumped on. In his last three matches Hartlett is averaging 118DT and 126SC and his score against the Suns on Saturday was his highest of the season in both formats, which would have given you an edge in a league final.
Brodie Smith (99DT/14.6% & 126SC/12.8%) has frustrated coaches all season long, particularly those that jumped on him after his blistering first two games of the season. However, in his last two matches Smith has delivered the premium defender scores people expected of him and might have just won the hearts back of coaches as he was top scoring defender in SC this week.
Lachie Neale (123DT/12.1% & 118SC/13.8%) was touted as a breakout candidate in the preseason and hats off to those that selected him as he's definitely made the jump to premium status. Neale was one of the Dockers best players in their comfortable 54-point win against the Demons and earned his seventh score of more than 120DT this season thanks to his 34 disposals, four marks, five tackles and two goals.
Breakers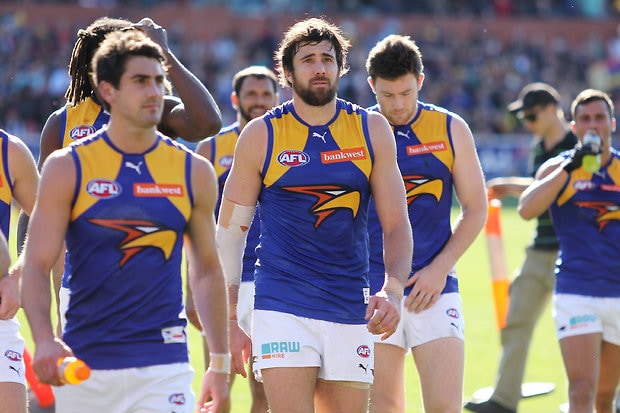 After a massive 139DT and 147SC last week Steven Motlop (51DT/10% & 49SC/6.3%) came crashing back to Earth with a pair of lowly scores. Motlop is an erratic scorer which can be extremely frustrating for his owners and against the Magpies he could only manage 15 touches, one mark, three tackles and a goal.
Ryan Griffen (44DT/7.2% & 59SC/8.6%) was in 23 percent of SuperCoach sides to start the year as many coaches thought he'd return to his 2013 scoring ways with a change of club after he struggled in his final year with the Bulldogs. Instead Griffen's scoring has gotten worse this year and for those who have held him to this point they would have been gutted as he was subbed out of Saturday's match with Carlton minutes into the second half with a knee injury.
Isaac Smith's (78DT/3.3% & 83SC/1.5%) uncontested and outside run style of play is much more suited to the DT format and through the first nine rounds of the season he was one of best players in that competition with an average of 112. Smith has gone at roughly 90DT since and would have annoyed coaches on Saturday as he was handed the red vest with 10 minutes to go in the third quarter when he looked set for a triple figure score.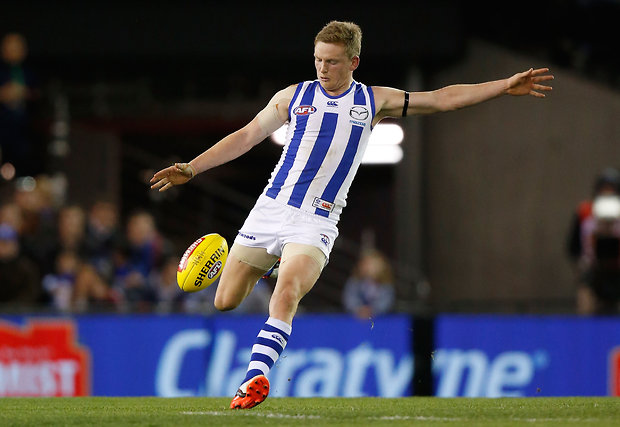 Many people jumped on Jack Ziebell (72DT/7.6% & 52SC/7.9%) after his price plummeted due to his injury affected scores of 7DT and 4SC in Round 3. Coaches would have been pleased with Ziebell's last three scores but against the Bulldogs this week he produced his lowest SC of the year, excluding Round 3, and wouldn't have been the advantageous unique you wanted in your side.
Michael Hibberd (58DT/14.5% & 60SC/9%) has been a popular selection in years past due to his consistency  but after this year that tag might have to be reconsidered. What would have been frustrating for Hibberd owners this week was that he had 21 disposals, typically enough of at least a 75 plus score, but was only able to take two marks and was the only Essendon player to fail to lay a tackle.
Since returning from his club imposed suspension Harley Bennell (62DT/4.9% & 70SC/7.6%) has been one of the best forwards across both formats. However, against the Power Bennell produced his lowest score in DT and SC for the year and while it wasn't a disastrous performance it definitely wouldn't have been what coaches were hoping for at the business end of the season.
Similarly to Gunston Josh J. Kennedy's (43DT/6.8% & 57SC/8.7%) fantasy numbers sit on the edge of premium status this season for a forward. As a player who relies heavily on goals for the bulk of his score Kennedy has produced some massive scores (three scores above 140DT and 148 SC) but also some poor ones (three scores below 51DT and 58SC). Sadly for coaches this week was a quiet one of the Coleman Medal leader who was kept to one goal for just the third time this season and one mark, his lowest tally for the year.
Owners of Andrew Gaff (62DT/3.4% & 66SC/2.4%) suffered a near identical fate as Hibberd owners as Gaff collected 23 touches but only just managed to claw past 60 points in both formats. Like Hibberd Gaff failed to land a tackle and had just two marks despite not receiving a hard tag from any Adelaide player. A unique premium midfielder like Gaff struggling in a league final can almost mean goodbye premiership if your opponent's unique fires, and is often the reason players end up in coaches bad books for the following season.
Perfect 22
Perfect 22 showcases the team that would have scored the highest possible score in each round disregarding salary cap. We'll compare the perfect 22 to the round winner in all fantasy formats and see how close a team comes to the perfect 22 score at year's end.  

Defenders: Kade Simpson (105), Jack Grimes (105), Lynden Dunn (103), Tom Langdon (102), Alex Fasolo (100) and Shaun Burgoyne/Shaun Higgins/Sam Fisher/Brodie Smith (99)
Midfielders: (c) Tom Rockliff (318), Scott Pendlebury (142), Dan Hannebery (133), Josh Kennedy (130), Jack Viney (130), Adam Treloar (129), Kieran Jack (125) and Hamish Hartlett (125)
Rucks: Mark Blicavs (127) and Max Gawn (125)
Forwards:Jeremy Cameron (143), Tom Mitchell (142), Taylor Adams (135), Brandon Matera (127), Jack Gunston (126) and Lachie Hunter (124)
Final score: 2895!
Highest scoring DT team: Extreme HummAs: 2444, 451 points off the perfect 22.
Defenders: Brodie Smith (126), Adam Kennedy (113), Shaun Burgoyne (112), Kade Kolodjashnij (110), Alex Rance (109) and Nick Malceski/Mark Baguley (108)
Midfielders: (c) Scott Pendlebury (310), Steele Sidebottom (148), Tom Rockliff (146), Hamish Hartlett (146), Adam Treloar (136), Karl Amon (133), Patrick Dangerfield (128) and Jack Crisp (126)
Rucks: Mark Blicavs (126) and Brodie Grundy (125)
Forwards: Marcus Bontempelli (153), Jack Gunston (149), Sam Gray (138), Taylor Adams (136), Jeremy Cameron (135) and Tom Lynch (130)
Final score: 3043!
Highest scoring SC team: TheNeverEndingSaga: 2634,  409 points of the perfect 22.